Discography
Louise Page sings Richard Strauss (Move Records) Phillipa Candy accompanist. A collection of favourite Strauss songs such as Morgen and Die Nacht, as well as lesser known works including 3 Ophelia Lieder and 5 Kleine Lieder op 69.
Eternity- The song cycles of Erich Korngold Louise Page and Phillipa Candy.  A rare collection of Korngold's exquisite songs.  Beauty, passion and wonderful poetry.
Looking to the Light – Songs of Christmas (Move Records) Louise Page and Phillipa Candy.  A popular collection of well-loved Christmas songs such as O Holy Night, Ave Maria and Have Yourself a Merry Little Christmas, as well as Australian carols, lesser known songs and children's favourites such as All I want for Christmas is my two front teeth and I want a hippopotamus for Christmas.
Harp in the Highlands – The Music of Ann Carr-Boyd (Wirripang Publications)      Louise Page and Phillipa Candy, with John Martin (piano) and Teresa Rabe (flute), presenting a 70th birthday tribute to Australian composer Ann Carr-Boyd.
The Magic of Operetta  (Move Records) Louise Page and Phillipa Candy.  Wine, women and song!  A waltz through some of the world's best loved operetta music from Romberg, Lehar, Kalman and others.  From their cabaret show of the same name, this is music to set everyone humming.
Beautiful – Art Song Canberra Favourites Louise Page and Phillipa Candy join with other notable Canberra artists to present a lovely collection of songs in french, german and english, including Brahm's Gypsy Songs, and songs by Barber, Massenet, Delibes, and Dawson. artsongcanberra.org.au
New Norcia – A Spanish Rhapsody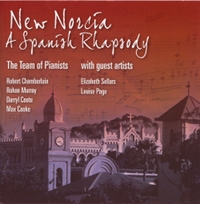 This CD
reflects the blending of Spanish and Australian cultures. Featuring  Melbourne's Team of pianists and guest artists soprano Louise Page and violinist Elizabeth Sellars, the programme on this CD comprises eclectic and attractive Spanish or Spanish-influenced works for two pianos, piano duet, piano solo, piano and voice, as well as for piano and violin. Composers featured are: Infante, Nin, De Falla, Moreno and Ravel.
Music of Sally Greenaway
A fabulous representative selection of Sally Greenaway's compositions, featuring music for chamber choir, chamber orchestra, a film music suite, clarinet quartet, and much more. Guest artist Louise Page and many others.
Movement ( Wirripang)
Vocal and Chamber Music by Horace Keats
The Linden String Quartet
Janet Webb (flute)
Louise Page and Phillipa Candy (piano)
A Race Against Time (ABC Classics)
Part of the Flowers of War Project, which aims to research, perform and record the music of composers who died in the First World War, this double CD features some of the songs and piano music of Australian Frederick Septimus Kelly who died on the Somme.
Tamara Anna Cislowska (piano)
Louise Page (soprano)
Christina Wilson (mezzosoprano)
Alan Hicks (piano)
Christopher Latham (violin)